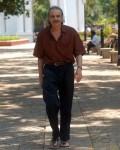 Date and time: 2012-04-19 15:00
Location: Oriental Studies Centre

Peter Heehs is an independent historian based in Pondicherry. He is the author of nine books, including The Bomb in Bengal and Nationalism, Terrorism, Communalism (OUP), Indian Religions (NYU Press), and The Lives of Sri Aurobindo (Columbia University Press). He has published more than fifty articles on Indian history, historiography and art in journals and magazines such as Modern Asian Studies, History and Theory, History Today and Art India.
Web link: http://www.oc.vu.lt/