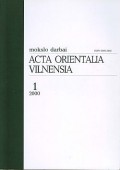 Published from: 2000
ISSN: 2156-2253
Web link: http://www.oc.vu.lt/en/aov.html
Phone/Fax: +370 5 2687256
Publisher: Vilniaus universiteto leidykla

The Acta Orientalia Vilnensia publishes articles on various aspects of the Indian Subcontinent, the Middle East, Central Asia, the Far East and South-East Asia, classical and modern. AOV sets up a working alliance amongst specialists in all branches of the social sciences and humanities as a way of bringing together multidisciplinary research, cultural studies, and theory, especially in anthropology, history, archaeology, literature, language, religion and art, and part of each issue is devoted to reviews of books in these fields. Articles range from close analysis of individual texts to detailed annotated translations of texts. The journal also publishes more speculative discussions of cultural issues based on a close reading of primary sources.
Editor-in-Chief: Audrius Beinorius, Centre of Oriental Studies, Vilnius University;
Editorial Board Secretary: Valdas Jaskūnas, Centre of Oriental Studies, Vilnius University;
Editorial Board: Antanas Andrijauskas: Culture, Philosophy and Arts Research Institute, Vilnius (Comparative Culture Studies); Arūnas Gelūnas: Vilnius Academy of Fine Arts (Japanese Studies); Michel Hulin: University of Paris-Sorbonne (Paris IV) (Indian Studies); Gao Jianping: Chinese Academy of Social Sciences, Beijing (Chinese Studies); Thomas P.Kasulis: Ohio State University,USA (Comparative cultural studies); Vladimir Korobov: Centre of Oriental Studies, Vilnius University (Tibetan Studies); Leonid Kulikov: Ghent University (Indian Studies); Jane Marie Law: Cornell University, Ithaca, NY (Japanese Studies); Viktorija G. Lysenko: Institute of Philosophy, Russian Academy of Sciences, Moscow (Indian Studies); Loreta Poškaitė: Centre of Oriental Studies, Vilnius University (Chinese Studies); Henry Rosemont, Jr.: Brown University, Providence (Chinese Studies); Debabrata Sen Sharma: Asiatic Society of Bengal, Kolkata (Indian Studies); Nikolaj Serikoff: The Wellcome Library, London (Arabic/Islamic Studies); Jan Sykora: Institute of East Asian Studies, Charles University, Prague (Japanese Studies); Danuta Stasik: Institute of Oriental Studies, Warsaw University (Indian Studies); Dalia Švambarytė: Centre of Oriental Studies, Vilnius University (Japanese Studies); Leons Gabriels Taivans: University of Latvia (Southeast Asia Studies); Yaroslav Vassilkov: Oriental Institute, Russian Academy of Sciences (Indian Studies)
Publshed numbers:
2009, 10, 1-2, Special issue: Studying the Orient in Lithuania, Turinys
2008, 9, 2, Special theme: Indian studies in Central and Eastern Europe, Turinys
2008, 9, 1, Turinys
2007, 8, 2, Special theme: Reconsidering the human in traditional China: Multidimensional perspective, Turinys
2007, 8, 1, Special theme: The literary construction of place as a form of religious and social commentary in Asia, Turinys
2006, 7, 1-2, Special Theme: Politics of Cultural Memory, Turinys
2005, 6, 2, Turinys
2005, 6, 1, Special Issue: Frontiers of Japanese Studies, Turinys
2004, 5, Turinys
2003, 4, Turinys
2002, 3, Turinys
2001, 2, Turinys
2000, 1, 1, Turinys