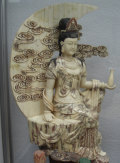 Beginning of collection agglomeration: 1960
Oficial establishment: May 26, 2009
Administrating institution: National M. K. Čiurlionis Art Museum
Address: K. Donelaičio g. 16, LT–44213, Kaunas
E-mail: PKGal@takas.lt
Link: http://www.muziejai.lt/kaunas/miskinio_rytu_menas.htm

 Eastern Art Collection is one of the three collections by professor Algimantas Miškinis. The main exhibits were collected from 60's to 80's.
In 2007 and 2009  a part of the collection (204 and 170 objects) were given to municipality of Kaunas. Since 2008 the collection is exhibited at National M. K. Čiurlionis Art Museum.
Collection has 419 objects from East Asia: China, Japan, India, Tibet, Islamic countries.
Lithuanian orientalists Dalia Švambarytė, Aurelijus Zykas, Julius Vaitkevičius, Algirdas Kugevičius and Qiaoyu Yang participated in identifying most of the art works of the collection.
Collection contexture:
Total number: 419