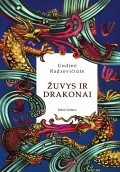 Authors:
Radzevičiūtė, Undinė
Published in:
Vilnius
Published on:
2013
Publisher:
Baltos lankos
The "Fishes and Dragons" book is different from the traditional Lithuanian literature tradition. It is like different category, in which intellectual challenge is combined with refined and not refined humor, and characters talks as they were fighting with a swards. According to Saulius Repečka – redactor of "Baltos Lankos" publishing house, this book is for reader, who can separate event of literature from the literature bubble. The name of the book "Fishes and Dragons" symbolizes Christianity, symbol of Christ – fish, and the power of imperator of China – dragon. Therefore conjunction of these two different worlds.
The book tells two stories which are told at the same time, but in the different centuries. When you start reading the book, you may have a lot of questions about connection of these two stories. They are printed in two different styles for you not to get lost between the lines. Furthermore, the writing manner of both stories is different. One story structure is calm, philosophical, and the other one is based on casual dialogues, ironic and acerbic.
One story of the book is based in XVIII century in China, about Italian Jesuit painter Giuseppe Castiglione, who tried to spread Christianity in China. He had a dream to turn emperor of China to become Christian. In this part of the book, author describes daily life of China's civilization, mentality of people, positions and ranks, relationships in hierarchal palace of Emperor. Moreover, characters highlights how do Chinese people understand art and presents main principles of Chinese painting. Father Castiglione put aside his beliefs and puts a mask in order to adapt and to please the Emperor, while he was interested in Western world and its innovations, principles of painting, perspective. Despite the fact, that Castiglione spent fifty years in China while trying to introduce Christianity to the Emperor, his tries were unsuccessful. Author of the book had analyzed historical facts about this century in China, its traditions, customs and historical characters, whom you can meet in the story. Through small details, small conversations, she reveals different aspects of East and West worlds.
The other story is about four women family from 21st century in undescribed city old-town Europe. The family consists of mother Nora – the writer of erotic novels, her two daughters Miki and Šaša, and old egoistic grandmother Amigorena. Through daily conversational fights and family dialogues, author describes each woman's characters, relationships between them. Each day grandmother Amigorena is sitting by the window, smoking and counting Chinese people, who have been living in their neighborhood, mother Nora tries to find joy in her life, Šaša dreams to start business and Miki (despite the fact that she was thrown out of her doctor's degree studies at university) she works on something in her room all her free time. Sometimes, dialogues of this family may be meaningless, sometimes they force you to think about relationships in families, or just laugh while reading hopelessly funny situations. This part of the book opens slightly different topics, there you can find different personal aspects and make individual conclusions about episodes compatibility with the context of book.
In one interview author commented, that the book is about two different Eastern and Western civilizations, but you can find more universal topics as religion and religious mission, family relationships, cultural differences, freedom, responsibility etc. Furthermore, between two different century's stories it is possible to feel attitude towards diffusion of Eastern and Western civilizations. While bring both, Eastern and Western civilizations close to each other looked very attractive and promising target in the XVIII century, but in the XXI century, bigger diffusion might be considered as a threat to the Western society. Therefore, one more aspect of this book is never forget East side, because it is always with us, do not matter in which side we will look.
Undinė Radzevičiūtė is talented Lithuanian writer, who graduated art history, theory and critics in Vilnius Art Academy. Around ten years she used to work in different advertisement agencies as creator (creativity director). She has published 5 books – "Strekaza", "Frankburg", "There Will Be No Baden Baden" and 180.
Her books were three times (2003, 2011, 2013) in the most creative books shortlists, and twice (2011, 2013) were in a list of best book of the year shortlist. Writers' books were translated into English, Estonian, Italian and Russian languages. Furthermore, her book "Fish and dragons" has been awarded the European Union\'s Prize for Literature of 2015. With this award European Uninion tries to highlight creative potential of modern literature in Europe and to increase interest in other countries literature.