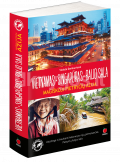 Authors:
Domkuvienė, Violeta
Published in:
Kaunas
Published on:
2015
Publisher:
Obuolys
This book gives perfect opportunities to plunge into three magic countries of Southeastern Asia. The author describes three countries figuratively and in a defiantly way, which she has visited. It is Vietnam, Singapore and the island of Bali. The author of the book shortly tells the   history , customs and traditions of the visited countries, which can give the reader a shock, and also describes her own adventures in the visited countries, a few of which are funny  and some of which will …surely bring back unpleasant memories. But it's most likely that the reader is attracted by the pictures of wonderful beauty, which can hypnotize in a moment.
The author of the book says that Southeastern Asia is the direction towards heaven. According to Violeta Domkuvienė, when travelling it's the most important not only to watch but also to hear and smell everything. Then you bring a lot of colours, odours, fragments of different emotions back from the trip. And those memories you remain all the time.
The first trip described by the author is about Singapore that is like eastern heaven. It is a modern and one of the cleanest cities in all over the world. The author provides a short description of the history of the foundation of Singapore city and the behaviour of citizens. Her pictures and  photographs allow to enjoy  of ancient temples of Singapore and its architecture breathing in an English spirit. The author introduces with tourist peculiarities and what a foreigner is allowed to do, and what it is better not to do when  you are travelling to Singapore. Another country is island of Bali that will probably astonish and surpriise the reader most of all. This country has unique beauty, which has managed to maintain individuality and authenticity yet. It seems that the human  of the Island of Bali are able to enjoy and admire every moment of their life. In the second part of the book about the Island of Bali the reader will be surprised and shocked by unique and interesting  rituals of wedding and funerals of local peoples. In the last part of the book the author invites to glance at Vietnam called as the country of the Red Dragon closer with the corner of the eye. The author introduces living peculiarities and customs of the citizens of Vietnam, and presents their mentality. Also she invites to visit visually Ha Long bay because this place has wonderful  beauty. Also invites to visit the city of lights in Hanoi, Hue and other magic places  of Vietnam.
Violeta Domkuvienė spent her childhood and youth in Kaunas. She graduated from the contemporary Polytechnic Institute and gained the qualification of a chemist. Now she focuses on the secrets of Ayurveda massage. She felt great passion for travelling in her childhood. Travelling has become author's lifestyle, which still does not give any rest to her.