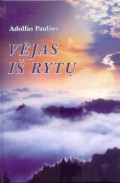 Authors:
Paulius, Adolfas
Published in:
Vilnius
Published on:
2009
Publisher:
Danieliaus leidykla
"Wind From The East" is a book with a unique content. This is the very first original literature work done by a Lithuanian author, where the story-line is about one Lithuanian student's adventures and impressions in the Far East – Xian, China. The author of the book didn't have a chance to travel to China himself, however, just like he said in one of his interviews, "The main character of the book went there instead of me."
Xian is the main place where all the action took place. The young Lithuanian came here to visit his childhood friend Pei Sin. Here, in Xian, Pei Sin introduces the Lithuanian to his friends, historians, philosophers and students from other countries, but most importantly he introduces him to a completely new culture. By using all kinds of traditional Chinese legends, history fact and so on, the author introduces the reader with a 5000 year old image of the mysterious China. The new friends reveal lots of different myths, legends (for example the legends about the foxes and the sky fairies), traditional customs. They introduce their friend from abroad with the old culture of China, reveal some of the traditional Chinese celebrations. Even though the main action of the book is during the 21st century, the younger generations of China are still embracing all the traditions and wants their new friend to know as much about them too.
However, here we can see another important topic of the book suddenly appear. It is globalization. China is not as closed as it used to be. More and more people are getting interested in the country, we can see more and more travelers choosing China as their destination. To add, the western impact is getting more and more noticeable. That is why there is a lot of comparison between the Western cultures and China. The main character also enthusiastically shares some legends and stories about his home country Lithuania.
Lastly, for the reader to get to know China's culture even better, at the very ending of the book the author gives away some of the traditional Chinese gymnastic exercises, old traditional recopies and even a list of Lithuanian – Chinese phrases and some of the most important phone numbers in case the reader would decide to go to the enchanting China. This kind of content when the the book is written is almost a diary form and all the recopies, exercises added to one place makes it even easier for the reader to see the image of China that the author wants to show us.