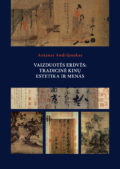 Authors:
Andrijauskas, Antanas
Published in:
Vilnius
Published on:
2016
Publisher:
Lietuvos kultūros tyrimų institutas
The book "Spaces of Imagination: Traditional Chinese Aesthetics and Art" which is written by Lithuanian philosopher, cultural historian, art critic, civilization theorist Antanas Andrijauskas aims to introduce a reader to the history, philosophy and problems of Chinese art. Also, it presents the history, the development and the context of Chinese art and aesthetics. In this book much attention is paid to Chinese poetry, calligraphy, landscape painting. The concepts of art, artwork, their composition and components are presented in this book. In this way the author creates a wide context which helps to understand Chinese art and aesthetics, their authenticity and originality. After reading this a reader will perfectly understand the traditions and philosophy of Chinese art and aesthetics which still seems mysterious for Western world habitants and is full of myths. Although this book is not for everyone as it is written in an academic style. It is more suitable for an audience of the academic world or for a reader who is interested in Eastern world and desire to know about it as much as possible.