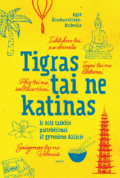 Authors:
Kulvelis - Šimkevičiūtė, Eglė
Published in:
Vilnius
Published on:
2019
Publisher:
Balto
In her debut book ''Tiger is Not a Cat'', theater director Eglė Šimkevičiūtė – Kulvelis shares her acquaintance with Vietnam and Thailand. The author and her husband, who first traveled to Southeast Asia almost a decade ago, had been hoping for this adventure to last for one year. However, a travel-infected couple who have explored the region in its entirety and are currently living in New Zealand are planning their next adventure.
For travelers who have never been to Southeast Asia, Vietnam has been a real shock. The hot and humid climate, the scooter drivers who disregard any road traffic rules, have become a major challenge that has made them regret the decision to come here. However, during the four years spent in Vietnam, the couple did not give up, they "domesticated" and fell in love with the country. According to the author herself, it required learning to look at everything with the "Eglė from Vietnam" eyes. Thus, in the chaotic streets of the country, the woman noticed a peculiar order and logic, and the strangers who would fall asleep on her shoulder, while taking a bus, suddenly did not bother anymore. In addition, the work helped to understand Vietnam and its people as well. The duties of a theater teacher at a private school and position at an engineering firm have taught both the author and her husband the importance of ''face-holding'', courtesy and indirect speaking. Getting to know the Vietnamese also taught them the culture, history and customs of the country.
After four years spent in Vietnam, the young couple thought they would effortlessly make a living in nearby Thailand. However, a state that has not experienced colonization and war, was far more economically advanced. According to the author, these factors also determined the national character of the locals, which she described as arrogant, short-sighted and critical. Thais, more than Vietnamese, value the importance of "face-holding". The woman explains that it is a creation of good impression about oneself in order to gain respect from those around you. One of the strategies of ''face-holding'' include the famous Thai smiles, which can have many meanings depending on the circumstances. When designing an image, great attention is also paid to appearance. Traditionally, only a girl with light skin can achieve success, happiness and love in this country. Therefore, even when bathing in the sea, women wear t-shirts, wide-brimmed hats and are otherwise protected from sunlight. Besides taking pride in being born Thai, they especially appreciate their rich traditional culture, customs and faith.
''Tiger is Not a Cat'' is an extremely informative and insightful travel book. During her four years in Vietnam and one year in Thailand, the author learned the history, culture, customs and people of these countries. These, having become writers' colleagues, acquaintances or friends, have taught her more than any travel guide. The author shares this knowledge in her debut book.