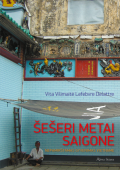 Authors:
Delattre-Lefebvre-Vilimaitė, Vita
Published in:
Vilnius
Published on:
2015
Publisher:
Alma Littera
After hearing an offer to live a year  in Saigon, journalist Vita Vilimaitė Lefebvre Delattre didn not waver: she always wanted to return to Asia, because she felt that there she will find her fate. But is the Saigon of 2006 really the place of her dream?
Just like all other people who wrote about their memories, adventures and events in Asia – the author reviels a rather dualistic world. To us, westerners, hearing the word Asia, whether we like it or not, brings thoughts of stereotypes like: Taj Mahal, The Great Wall of China, odd dishes and so on. But these are the thoughts of an unexperienced person. There is a completely diffent, deeper world underneath our ameteuristic glance. That is exactly what is emphasized in "Šešeri metai Saigone" (Six years in Saigon). While drawing a picture of uknown Vietnam to a westerner, the author binds every drawn line with her own experienced events, feelings, thoughts. In this book one will find how stereotypes are "broken" and confirmed. However, the most fascinating aspect of this book is the author's ability to put the reader of this book into her place. To make one feel enstranged in a different culture. To feel lonely and showered in often not required attention because of being  a "white" person with light eyes.
Vita Vilimaitė Lefebvre Delattre starts her story by describing every day events, such as doubts, long and tiring flights, attempts to adapt to an entirely different climate compared to a well know lithuanian one, first encounters with a different language, culture and its everyday life. With a gentle longing she describes her first met locals, witty foreigners and their adventures in Saigon, with a certain fear – her first troubles. It is essential to mention, that the author talks a lot about the nowday troubles of Southeast Asia's social and economic problems – unemployment, poverty, smuggling, low level of education, pollution. From these troubles, the author distinguishes the lives of vietnamese women, girls. Ones give everything to their looks in order to find a rich husband. Others do their best to carry not only their children and parents as a burden, but also their husband's, who often leave the daily chores to their wifes.
On the other hand, the author describes vietnamese people with joy, as she found that they are very enterprising, hardworking people with a lot of potential. During these six years she spent in Saigon, she has witnessed how new buildings spring up every morning. When asked, almost every vietnamese person says that they expect Saigon to reach the level of Singapor or Honkong in the near future. At first, such answers seem naive, but in time – they gain a strong backup.
Saigon is one of those places, where everything is possible. Where everything may seem worse than bad, in the same time is as good as it can be. This fussion from bad to good is happening nonstop. When walking a narrow street filled with suspicious people and strange cafes, one can end up on the doorstep of a most luxurious restaurant, SPA or boutique shop.


Vita Vilimaitė Lefebvre Delattre is a journalist for over seventeen years. She has been the chief editor of "Cosmopolitan", worked at "Lietuvos rytas" (Lithuania's morning) television, LNK, co-operated with magazines "TV antena",  "Stilius",  "Kinas", "Ieva", "Žmonės", "Nuo... Iki...", "Laima", "Moteris", russian "Ellie", created stories for TV3 show "Gyvenimas yra gražus".