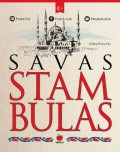 Authors:
Koruklu, Jolita
Published in:
Kaunas
Published on:
2016
Publisher:
Obuolys
This book could be called as guide of Istanbul, whereas best places assortment in the city. Author thinks that Istanbul is like "living organism, which continually changing", so this book have everything: from history of ancient and modern Istanbul from lifestyles. "Own Istanbul" is the best assistant for searching Istanbul\'s places. After reading the book, you'll know everything how is going and even how to behave in the mosque or market.
In the first chapter, author not only introduces the history of Istanbul, but even public transport: how to use them; market: how to get cheaper product; museum: which museum is the best in Istanbul; restaurants, warnings and what to do when you get in trouble?
Jolita Koruklu- Lithuanian "Surfing the world cuisine" blogger, currently living in the Istanbul, Turkey.