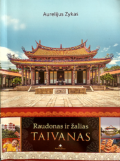 Authors:
Zykas, Aurelijus
Published in:
Vilnius
Published on:
2018
Publisher:
Aukso Pieva
"Red and Green Taiwan" is yet another carefully crafted and endearing travel book after "The Colors and Flavors of Japan", both written by Aurelijus Zykas. The first thing that catches the reader's eye is the book cover – a picture of a stunningly beautiful Taiwanese temple. The first few pages greets the reader with breathtaking picturesque visuals of the local nature, accompanied by a few quotes from Chinese philosopher Zhuangzi whose ideas and thoughts can be found scattered throughout the book in an intermezzo style in-between the author's journey through Taiwan.
Zykas' adventures are in the form of a seven-day trip which begins at the Taiwan airport where, together with his study and travel friends Rex and Petra. They grab taxi and after arriving at their hotel, quickly leave their baggage and with the help of Rex, who is local, rush to experience the Taiwanese night market, full of various exotic food options: squid, octopus, snake and toad meat, unseen exotic fruits. Every chapter introduces interesting facts about Taiwan from various stances: historical, cultural, social and economic, all of which are presented in an alluring way, in the form of discussions, insights and comments, sometimes drawing comparisons to Lithuania as well. The information provided naturally flows into the overall context of the book. Mouth-watering food descriptions are a common theme in the book, as in Taiwan and other East Asian countries in general, food plays a big part in East Asian culture.
The author doesn't shy away from being blunt and honest when describing the trip, his friends and the people he meets on the way. Some humor is also sprinkled in the book, as well as witty remarks which make the overall writing style lively, heartfelt and easy to read. The people portrayed in the book sometimes become a caricature of themselves to the point that it is hard to believe it is a real person instead of a comic book or movie character. Descriptions of nature, food and architecture, accompanied with bright and colourful pictures raises the desire to travel and experience Taiwan.
The end of the book packs even more pictures, revealing the true beauty of Taiwan. There is also a good amount of helpful travelling tips for those wanting to see Taiwan close and personally. It provides information on a number of places to visit, expectations, more in-depth information on Taiwanese culture, ethnicity, politics, geography, as well as extensive notes on Taiwanese writing system and place naming.
This book is recommended for travel and food enthusiasts, as well as those who take great interest in East Asian cultures and languages. The book also serves as an easy and good read for those who seek to relax their minds after a hard and stressful day.
Aurelijus Zykas is a Lithuanian Japanologist, docent, political scientist, traveler, translator, who finished Vytautas Magnus University. The author has published multiple scientific papers and is the founder of VMU's electronic Japanese-Lithuanian dictionary. Zykas speaks in English, Russian and Japanese, has given lectures and attended a number of conferences in various universities in Europe and Asia. In 2018, he found his current company Azija LT in hopes to develop and cultivate international connections between Lithuania and Asian countries in terms of academics, culture and businesses.