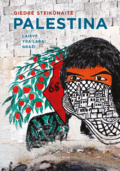 Authors:
Steikūnaitė, Giedrė
Published in:
Vilnius
Published on:
2017
Publisher:
Alma litera
Giedrė Steikūnaitė is a journalist writing about cultural and social aspects of human experience both in English and Lithuanian languages. In Lithuania she co-operates with journals "Moteris", IQ. Inteligent Life", news portal "Bernardinai.lt" and other. She was born and raised in the capital of Lithuania. She studied journalism and contemporary history in London University. Author traveled a lot, during which she prepared reportages from Asia, Latin America and Europe. During two-year period lived in Palestine she listened and written down stories from Palestinians and compiled them to a documentary sketches' book – "Palestine. Freedom is very beautiful"[1].
Author while living in Palestine was collecting the stories from various people, such as activists, farmers, intellectuals, professors, political prisoners, photo-journalists, bookshop owners everyday people of Palestine. The book tells stories that range from XX century until today's events. Reading about oppression that lasted about 70 years it is hard to believe and imagine how people live, work, dream and raise families in conditions like that. This book is an excellent window to everyday life of these simple but extraordinary people living and still fighting in the best way they can, and it does not matter if it a marathon, pencil or a stone.
In this book there are about 20 narrators. The main narrator at the moment in book is the person whose story is being told. Every entry or chapter has notes and introduction of people that is telling their story as well as some entries from authors experience in this country, but overall stories are being told by the people whose life experience it is. Every single chapter and entry in this book is told from the first-person perspective. It is very interesting and valuable way in telling these stories, because: (1) reader gets to experience story from the point of view of the person who lived through this; (2) story is raw and unfiltered by the biased opinions of the author; and (3) ordinary people living in oppression gets a voice and a chance to tell their own side of the story
I enjoyed this book, I founded it very interesting, alluring, honest and raw-unfiltered. This book in engaging and sincere, especially because the story is told by real people that experiences are real, and their life has the same obstacles as very free-county person on top of the possibility of their home and land being taken at any time for no apparent reason. "You forget and do your daily things. After all, you must pay bills, put on the table, clean your home, take care of your children – you can't just get depressed and simply throw everything away. <…> Do you understand? People cannot constantly think about occupation, because they would not be able to survive." [2]And they still won't give up and fight for their truth, freedom ang rights. Once, one Israeli colonist attacked my son, while he was grazing sheep My son came up to me and told me what had happened. I went outside, I caught this colonist, I grabbed him by the beard I turned it around a few times and pushed him on the ground. When he fell, I stepped on his beard. <…> They can shoot bullets at me, I am not frightened by them, I still will throw stones at them. Even if I will stand alone against the army, I am not afraid, and I take risks. Life or death."[3]
I urge everyone who has a heart and brain to read this book and think about the fact that there are people just like you, with life goals, families and dreams who on the daily basis are oppressed, their human rights are being denied homes taken away and other horrible things done to them, and all they want is just beautiful freedom.
[1] Steikūnaitė, G. (2017), Palestina. Laisvė yra labai graži.; "Palestine. Freedom is very beautiful"
[2] Steikūnaitė, G. (2017), Palestina. Laisvė yra labai graži.; "Palestine. Freedom is very beautiful (entry translated by the author of book review.
[3] Steikūnaitė, G. (2017), Palestina. Laisvė yra labai graži.; "Palestine. Freedom is very beautiful (entry translated by the author of book review.