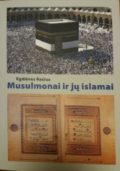 Authors:
Račius, Egdūnas
Published in:
Vilnius
Published on:
2016
Publisher:
Mokslo ir enciklopedijų leidybos centras
"Muslims and their Islam" is a study book about Islam as a religion and the Muslim culture, its traditions and customs. Author cites Quran and interprets it to explain the Muslim culture. Gives examples not only from Middle East or world but also from Lithuania and the Muslim culture here.
First part of the book pleasantly surprises with information and statistics from Lithuania and its relation with Islam and its people. It is important to note that in this book you can find both today world's examples and examples from the past because author focuses on history as well. The most fascinating thing about this piece is how the author critically sees the Muslim culture and talks about it without any prejudice. He focuses both on its pluses and minuses. However, at the same time he manages to crush many myths surrounding this religion and people who believe in it. There is also a chapter about people's relationships, love, and marriage, it helps to get to know everyday customs and life of the Muslims better.
This book would be a great helper next to reading Quran since the author cites it very often or explains certain parts of it. Also, it is a good way to introduce yourself to the religion and get rid of prejudice you might have in your head. It is not hard to read and it helps you  get to know one of the oldest religions in the world.
Egdūnas Račius- scientist of religion, ethnologist who takes interest in the Muslim culture and Islam.