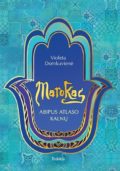 Authors:
Domkuvienė, Violeta
Published in:
Vilnius
Published on:
2018
Publisher:
Didakta
Chemist Violeta Domkuvienė for those interested in literature about exotic lands is better known as tireless traveler. In the highly acclaimed books ''Madagascar: Mora Mora through the Land of Wonders'' and ''Vietnam. Singapore. Bali Island: The magical Southeast Asia'' author shares delicious flavors and smells, unusual traditions, natural beauty and other experiences while traveling abroad. This time, in her latest book, Ms. Violet shares impressions from Morocco.
Together with a group of friends and local attendants Khalid and Abdelatif, traveler goes to Fes, a medieval Arab city. Here they visit the hundreds of years-old palace, the Great Medina Gate, the city market, where locals sell camel meat, bright spices and traditional sweet mint tea. Later, travelers are drawn to the Atlas Mountains, where they are met not only by heat, monkeys and sands, but also by snowy peaks. They are replaced by the Black, and after a camel trip, by the Sahara Desert. Set in a desert camp, a group of travelers get to know nomads and their lifestyle. The author and her friends return to civilization as they visit Varzazat, famous for Ait Ben Hadu fortress. From here, the journey continues to the millionth city of Marrakech. The modern city is lined with Bahia Palace, the ever-bustling Jema el Fna Square and its bazaar, and the ever-evolving gardens of Majorca. The last stop is the Suwara region on the Atlantic coast, home to delicious seafood. Apart from them, travelers also try the traditional hammam, which becomes an indelible experience.
Nevertheless, ''Morocco: On Both Sides of the Atlas'' is not a regular travel book. The author often discusses the peculiarities of society in this region and its relation to the West. As the traveler says herself, the locals she met in the area were very hospitable, kind and friendly. However, one meeting shocked her greatly. The woman, who got cursed by the local trader at the marketplace still remembers his angry eyes and  face, and has long been searching for the causes of such behavior.
Violeta Domkuvienė, in her travel book, "Morocco: On Both Sides of the Atlas," introduces the reader to a varied and immensely contrasting land in Africa. Desert with nomadic tents is replaced by snowy mountains, and these by the shores of the Atlantic Ocean. In the middle of nowhere, the millionth city invites you to buy argan oil, camel meat, fragrant spices and other Moroccan attributes.