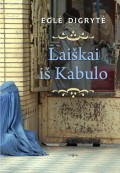 Authors:
Digrytė, Eglė
Published in:
Vilnius
Published on:
2014
Publisher:
Tyto alba
Link:
-
The author in her book tells an interesting story about how to survive in war's zone, how to remain alive. She tries to show the real Afghanistan, to deny some myths, to tell more about culture and traditions that are essentially different from Lithuanian. Egle Digryte openly talks about women's position in Afghanistan and attitudes towards foreign, warn about dangerous in Afghanistan.
Also, necessary to mention that you could find a lot of colourful illustrations in the book that shows country's life.
Egle Digryte – journalist, who was working in various daily newspapers, news websites. The first time she has visited Afghanistan in 2009. Then she was there to write about Lithuanian soldiers who were living in Afghanistan. In 2010-2011 Egle Digryte was working as an adviser on communication duties in Afghanistan.