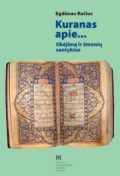 Authors:
Račius, Egdūnas
Published in:
Vilnius
Published on:
2017
Publisher:
Mokslo ir enciklopedijų leidybos centras
This book gives a detailed  description of the sections of Kuran, which billions of people in the world are currently interested in. Among them are Lithuanians, who have been becoming more and more relevant to the topic due to migration and other demographic processes. The book is intended for understanding the purpose, structure and language of Kuran. The content of the book is based on two spheres – the field of faith and rituals, and the field of social issues. The glossary given in the book helps to understand everything better.
This is the first time I have had to deal with this topic. Its colorful content is astonished. I have realized how shallow and sometimes mistaken people's knowledge (including mine) of essence of Kuran and Islamic religion (the second largest religion in the world) is. For example, in the issue of etiquette, when the erroneous stereotype prevails about Muslims being  brutal and susceptible to religious fanaticism.  I have also gotten to know Kuran's primary purpose – to convince the pagan Arabs of God being not only eternal but also a Creator of everything. Muchamad is his chosen prophet through whom God informs mankind of what is going to happen.
E. Račius is a professor at the Department of Regionalization at Vytautas Magnus University, Faculty of Political Science and Diplomacy, with more than 20 years of scientific experience in Islamic and Muslim cultural studies.