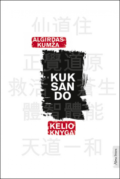 Authors:
Kumža, Algirdas
Published in:
Vilnius
Published on:
2018
Publisher:
Alma Littera
Kuksando is a thousand years old Korean education system of body and spirit. It is a Korean wisdom school which helps people to discover the harmony of their emotions, body, and mind, recover youthful energy and overcome stress. Due to meditation, physical movements, specific breathing techniques human beings can become persevering and strong both physically and spiritually.
The introduction of the book is promising and even inspiring for changes in life. The author says that while reading the book, we will feel a lot of scents and flavors. In fact, the author did not lie. This book has plenty of new discoveries and many things that it's hard to believe. However, the people met, events and narrators and their openness, persuades us that it cannot be lie, it must be true.
The author of the book describes his journey, which begins in Tibet, then goes on in Patagonia, near the South Pole, in the Carpathians and ends in Medvėgalis. But mostly the author writes about his experience in the mountains of Korea. The picturesque descriptions of the temples, the images of the mountains, the centers of kuksando, and the secret places of meditation areas are the source of great interest and desire to travel there and to try meditation for ourselves.
The author meets many interesting people, such as shamans, who can look at you with their perception and understand your experiences, and see the past. He also meets famous doctors and scientists in their laboratories where they are cloning dogs and try to clone mammoths. The book mentions a lot of various meetings with teachers, professors, architects, etc., whose life was inspired by kuksando. These people told to the author what important and huge power it has in their lives. Thanks to kuksando, people manage to preserve their health and stay physically and spiritually healthy.
The book pays a lot of attention to the acquaintance and travel experience with Jin Mok, who is a teacher of meditation, martial arts, and oriental meditation. Jin Mok is a well-known kuksando master in the world, who has been practicing it since childhood. He teaches people kuksando and has his own meditation clinic in Seoul. Jin Mok's attitude towards the world and the spiritual wellness is different from most of the world's population. Author's description of Jin Mok's relationship with nature, energy sensation, calm and excellence is very astonishing.
Author of the book, Algirdas Kumžas, is exploring kuksando for many years and has a teacher's qualification. The developer of the national kuksando center in Lithuania, the signatory of the Lithuanian Independence Act, ambassador, mountaineer and the author of "Himalaya. One expedition diary". A. Kumžas speaks about the kuksnado as an opportunity to discover himself, to calm the spirit. Kukando gives strengths to do work and constantly go forward, helps to discover body and spirit abilities.