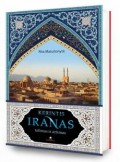 Authors:
(Lietuvių) Matulionytė, Rita
Published in:
Vilnius
Published on:
2013
Publisher:
Aukso pieva
Doctor of law, Rita Matulionytė in her book "An Enchanting Iran" shares her experiences in this mysterious country. The author introduces readers to the wonderful Iranian nature, culture, and their everyday life. The book is not only full of interesting stories, but also information that is helpful for traveling to the enchanting Iran. The book also gives readers a chance to get acquainted with the history of Iran, moreover to look at the cultural features. The book breaks long established stereotypes about this faraway country. This book is for those who don't know much about the country, but wants to learn more. The book is also full of colorful illustrations that convey a part of the country's beauty.
The author also pays much attention to the architecture of the buildings. Isfahan – one of the most beautiful and best adapted tourism cities in Iran. The town square is protected even as UNESCO heritage. The book also contains interesting facts about Iran's achievements in the field of science. According to the growth of education sector, Iran is the world's 1st. The author reviews the existing problems in country , such as the emigration of young people in other countries.
The author focuses on the people and their lives, their daily activities and rules. One of the most interesting features of the Iranians – the differences between the same people on the street or in a public space and privacy. In a private environment highlights their warm and joyful way. Although the country has one of the gloomiest images in the world, although it seems oppressive atmosphere in the streets, in a private space, people are generally happy, playful, talkative. Iranians laughs a lot and loud. It is also a striking feature of the Iranians, quickly catching the eyes of a foreigner – tendency to be proud of their country, especially in a few thousand years of the famous and venerable history, but they are often ashamed of their current political situation. Also in the book, we can see that Iran has a number of similarities with other countries. They are also celebrating our well known holidays like New Year's. As the author writes in the book, "Our country\'s history and culture, our religions have more in common than we think." Iran is not only a war devastated country, as we usually hear, it is more and more modernizing country. In this book you will see Iran as you did not expected.