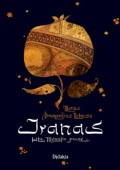 Authors:
Abramavičius, Marius
Published in:
Vilnius
Published on:
2016
Publisher:
Didakta
Book presents Muslim country, Iran. Writer visits not only famous cities such as capital Tehran, cultural Shiraz or historic Isfahan, also pointing out more remote and less polluted and chaotic , not hazed by traffic jam cities. Journey starts at Tehran, later are visited on the way situated smaller central and borderline provinces of Iran, which have unique rhythm of life and perfectly presents diversity of Iran's society. Journey through Iran is seen not by historian or journalist, but as …if impressionist fixating outstanding events, problems, domestic life, stunning nature, historical heritage- mausoleums, monuments and mosques. Book reflects mentality of Iranian's, current daily life in Iran's regime atmosphere, anxiety and tension made by revolution to which can relate older generation of Lithuanians.
Reader is introduced to completely unknown for us culture, nature, traditions and history. Although, Persians, most important part of population in Iran, are near our, Indo-European descendants, relatives, Iran for us is the other side of the moon, undiscovered, not yet familiar. Old stereotypes about military disagreements and privation are completely denied, Persians have the same desire as Lithuanians in Soviet Union – to feel free. After Iran\\Islam revolution in 1979, which led from absolute monarchy to Islamic republic, everything changed completely. For young generation it's hard to get used to Islamic traditions, which had been brought back after revolution, and taboo of western culture. In the book are clearly defined Islamic regime prohibitions and rules (some of them are also valid to visitors): not available to take photos in some places, no alcohol, the rule of riding subway: first and last cars are only for women – no men are allowed to get in, to touch woman in public is not allowed (even to shake hands !), women has to cover their hair: from hijabs, only covering crow of the head almost not covering anything, to burqas with additional eye cover for complete disguise. While portraying the country writer highlights hospitality of Iranians, insane driving "Happy. Still. Alive. Out of the car.", separation between private and public life, angry stares of women wearing hijabs and burqas and constrained self-expression, which reflects in mentality of society.  Also he nicely portrays the rules of life that Iranians made themselves: bus arrived late at least for one hour – to be late for bus, simply impossible, privacy of family's life – everything that happens at home is secret for public eyes or guest, to see celebrations nearly impossible, although if you get invited, you would uncover completely different life side from public one. All the portrayed images tangles with impressions and over time and observations understood things, until finally it comes to conclusion that for us, Lithuanians, Iran is so distant, but at the same time so familiar.
Cover of the book, outline of pomegranate filled with fragment from ceiling of the mosque, catches eyes and perfectly mirrors the identity of Iran, name "Iran, or the other side of the moon"- perfectly represents Iran is written in Farsi writing style. At the beginning of the book – precise concordance, this directs in which page starts new adventure in different city. Book has lots of various types of pictures from writer's personal archive: from random images of everyday life to cultural sites. Islamic world, restrictions and reality in Marius Abramavičius book "Iran, or the other side of the moon" invites reader to acknowledge completely different world. Writer's artistic nature reflects in his distinctive style of describing images, which are very detailed, but very chaotic, some things are described in detail, and some of them are just left to hang in suspense. Chaotic and not completely disclosed context beckons reader to find out about this nation, to travel and to acknowledge, thus fill in scarce gaps which don't let completely understand life of Iranians nowadays.
Marius Abramavičius Neboisia – painter, poet, photographer, traveler, writer, video artist, kite craftsman and diplomat of republic of Užupis, now ambassador of republic of Užupis in Persia (Iran) and Santus Spiritus, for 13 years work as ambassador in Tibet. At 2016 was published his book "Iran, or the other side of moon" – is peculiar travelogue, freeman's free view of world, which slowly opens for us. Author in his life "experienced" lots of cultures, thus he doesn't get strong cultural shock, but still highlights for us, Europeans, living in "time is money" type of lifestyle, what unfamiliar and, possibly, unacceptable is chaotic, but at the same time relaxed is life of Iranians.