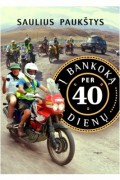 Authors:
Paukštys, Saulius
Published in:
Vilnius
Published on:
2014
Publisher:
Tyto alba
"Į Bankoką per 40 dienų", the book written by Photo-artist Saulius Paukštys, describes a breathtaking story and memories. The journey was organized in order to commemorate the eightieth anniversary of the fearless Transatlantic flight of two legendary Lithuanian pilots – Steponas Darius and Stasys Girėnas. During the trek lasting for almost two months, the distance exceeding fourteen thousand kilometers was covered by two motorcyclists accompanied by their two friends driving cars. A variety of roads and paths, from coasting on asphalt roads to adventures off the beaten track, nearly everything was tried out on their way to Thailand crossing Latvia, Russia, Kazakhstan and Laos.
The image of the author smiling on the book's cover quickly grabs the reader's attention and gives it an extraordinary appeal. The second page includes the map of the journey to portray a better picture of the exact route to the reader. The book contains numerous illustrations from the author's personal archive as well as photos taken by his journey companions. Pictures of cities perfectly reflect the iconic beauty of Asian architects' mastery and landscape shots reveal the untouched beauty of Asia. Some personal photos are also included. The reader is told about the traveler's food, humorous and emotional moments, even photos of a path to a toilet, everything is there. Almost every little detail is described in the forty-two-chapter book. There are smaller chapters for special stories, spectacular locations or unexpected event descriptions which seek to help the reader to understand the bigger picture. The author presents short, but exceptionally detailed portrayals of a locations or cultural objects in chapters that have a sand-coloured background and tends to provide only the most important details there. The book abounds in stylistic devices (diminutives, comparisons, epithets, hyperbole etc.), the author also includes a lot of colloquial language and humour, less often uses sarcasm and irony. In addition, he does not hesitate to provide his subjective opinion and practical tips, such as locations where it would be cheaper to stay overnight or restaurants that serve more appetizing food, and adds quite a number of uncalled-for domestic remarks. Cities, villages, hotels, various food restaurants and other objects are depicted in great detail.
The book begins in a petrol station near Vilnius where a touching goodbye is said to friends and family while construction workers with pneumatic tools endlessly hammer away at a car wash foundations in the background, trying to demolish it. The reader does not have to wait long for adventures to happen, immediately, before leaving Lithuania, the navigation device fails, which is quickly followed by merciless Latvian roads where a crash accident is barely avoided. Adventures continue in Russia, where companions find hotels that do not have any water, drive through surreal nameless villages and of course get to choose what to eat from a "vast" soviet food assortment. Further on, travelers get charmed by the peculiar Kazakh food cult, well-groomed city of Kostanay and a warm welcome from the Lithuanian embassy. Next comes vast China that offers daunting challenges: volatile, ever-changing traffic, communication with locals only via sign language and other things that Westerners might find hard to comprehend. Having crossed the extensive fields of China, the heroes finally reach Laos and eventually Thailand capital Bangkok. The journey ends with all of the participants meeting the mayor in the city town hall where the trip organizer talks about their trek and an amazing feat of the Lithuanian pilots, which inspired the recently concluded journey. That brings their long lasting touring to an end. The journey brought adventures that might not ever get experienced again, although one thing that lasts is seeing and understanding the different lives of people living in different countries and the memories of various tricky situations: traveling through deserts or jungle, driving on slippery ice-covered mountain roads, swimming in rivers and ascending to glaciers. The author thinks that the scenery and impressions experienced during the trip will continue to last in their minds. It is time to say goodbye, but I think goodbyes are sad, I would rather say hello. Hello to a new adventure.
Saulius Paukštys – a photographer, an artist, a publicist and an art critic, considered one of the most significant postmodernism representatives in Lithuania, a member of a Lithuanian photo-artist union. He held personal exhibitions in Lithuania, U.S., Canada, Poland, Holland and Kyrgyzstan.