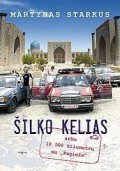 Authors:
Starkus, Martynas
Published in:
Vilnius
Published on:
2009
Publisher:
Tyto Alba
"Silk road, or 10 000 kilometers with "Pagieža" is the first book by Martynas Starkus. It is a book about his trip's recollections, though at first he was not planning on writing it. Everything started as simple notes during the trip down the Silk Road but over time Martynas started writing his experiences on the internet. Finally, with a push from his friends he brought himself to write the book. Author admits being lazy about the book and writing it but now that it has been released he rejoices and thanks his friends for the push.

In 2008 author together with his mate Vytaras and a few other companions had decided to go on a trip down the well-known Silk Road. It is the oldest known trade and cultural transmission road connecting the West and East. Linking together China, India, Persia, Arabia, Greece and Rome together many different cultures and their heritage were brought to both trading sides. The most common items were silk (road was named after the most common item), gems, spices. It was their second expedition. With three old Mercedes–Benzes named "Pagieža", "Slibinas", "Drąsutis" author with his crew decided to reach Tashkent, capital of Uzbekistan. The distance from Vilnius to Tashkent sums more than 10 000 kilometers.
The book is like a diary – chapters are divided by days and each day is full of new experiences. Author's endless humor, respect and tolerance towards different sometimes strange traditions helps us create quite a warm picture of their trip. Though not everything is nice – invidious situations are included. Blasphemic ride along mosque entrance, the need to push the vehicles in the early morning while other people are still sleeping, the grasp of the fact that one driver does not have his license and all other bumpy experiences from the trip is what you will find in this book.
Martynas Starkus (born in 1973, Vilnius) is a Lithuanian journalist, traveler, TV presenter. He has a bachelor's degree in journalism. Besides working in radio stations, TV shows M. Starkus also writes books about his joined travels with his old friend Vytaras Radzevičius. In his free time he plays football in amateur league. Until 2013 – 11 – 27 the journalist has written 3 books:
<ul>
"Silk road, or 10 000 kilometers with "Pagieža" (2009)
"Knock knock India" (2010)
"Once in South America" (2012)