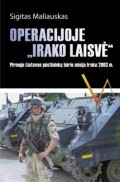 Authors:
Maliauskas, Sigitas
Published in:
Kaunas
Published on:
2013
Publisher:
Vox altera
"Operacijoje "Irako laisvė" is a book about first Lithuanian soldiers mission in Iraq in 2003. Just by having a quick glance at this book you might think that this is another book about war, but actually, you will find much more.  Every chapter starts with quote from by far famous book about war "The art of war". These short fragments of brilliant Sun Dzu book makes text very sublime. Sergeant writes about communication between solders, psychological support for each other, …cultural communication and problems coming out of it. Author is not afraid to use humour and sarcasm even in critical situations. In addition to that, there is plenty of photographs from personal Sigitas Maliauskas photo archive, where you can see an everyday life of soldiers, scenery of Iraq and warm local people smiles.
This book is written chronologically, sequentially. One story follows after another. Everything starts from squad formation and therefore ends with flight back to homeland. Events that are written in the book are usually escorted with articles from Lithuanian media. This is the way to show contrast between what is real and what is showed to people through media, which does not talk about the actual soldiers' preparation for mission and its gaps. Maliauskas writes about equipment that is not good enough for sandy Iraq land, about uniforms that are not adapted for tropical climate zone and, on top of that, about psychological preparation. Before going to entirely different cultural environment soldiers were not informed about Iraq traditions, views and beliefs of people living there.
With this book author also shows how insignificant soldiers are to our government. Military men are kept as a raw war material. There is almost no attention drawn to soldiers' psychological state, living conditions and supply provision. Despite that, soldiers not only give all of their energy and time, sometimes they even sacrifice their loved ones. Maliauskas says that the ones that send soldiers off are not always waiting for them to come back. "Separation always put feelings to the test."
Sigitas Maliauskas is a senior sergeant of Lithuanian army. He started his active duty in 1995. This book is based on author's memories and experiences from first Lithuanian army mission in Iraq in 2003. Maliauskas says that during the mission he wrote a diary, which later expanded into a book inspired by fellow soldier authors.