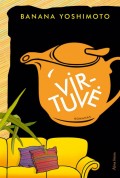 Original language:
Japanese
Translated from:
Japanese
Authors:
Yoshimoto, Banana
Translated by:
Baronina, Indrė
Full translated source bibliographical description:
Banana Yoshimoto, Kitchen. Japan: Benesse Corporation, 1988
ISBN:
9786090115824
Published in:
Vilnius
Published on:
2014
Publisher:
Alma littera
Banana Yoshimoto (the real name- Mahoko Yoshimoto) – japanese writer, born in 1964 in Tokyo. Rased in a family of writers, Yoshimoto says, that started writing being 5 year-old. Her debut novel "Kitchen" got three awards at once: "Kaien" magazine premium for best debut at 1987, Kyoka Izumi literature premium in January 1988, and recomendation award of the minestry of education in august 1988. It is the most popular writer's novel nowdays and is translated to lots of languages is on sale in more than 20 world countries.
The main novel character- Mikage- loves kitchens more than anything. Probably, because of being alone with kitchen is better than being alone at all.
This book is not for the ones who are likely to be in a hurry. One of the best Yoshimoto writing features, which represents the majority of Japanese literature- find the beauty in daily life. The novel says about people, who lives casual life and care about small things. But Banana Yoshimoto has a brilliant ability to turn every detail of every sentence about a daily life to a masterpiece. While reading the novel "Kitchen", you have to plunge deeply into every read word, otherwise you'll have an impression, that the story is about nothing.
The story itself says about a girl and a boy, who are connected by same thing – both of them are being left by important people of their life. The novel is not hard to read, and, despite a lot of tragic things are happening in it, the author is able to make a mood of brightness and light.