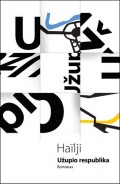 Original language:
Korean
Translated from:
Korean
Authors:
Hailji (Rim Jong Joo)
Translated by:
Šiaučiūnas-Kačinskas, Martynas
ISBN:
978-9986-39-735-9
Published in:
Vilnius
Published on:
2012
Publisher:
Lithuanian Writers Union Publishers
Hailji Užupis Republic, it is a novel about Korean Hal, who came to an  uknown country determined to do everything to find the Republic of Užupis. At the beginning Hal comes to the Vilnius airport where he notices a beautiful young  blonde girl – Jorgita. The trip begins by coming to Užupis hotel, where the Korean is greeted by friendly Lithuanian people.As the most important thing to Hal is to find the Užupis Republic, the guy is attempted to ask everyone what they know about it. 
When asked about the Republic of Užupis, the guests start laughing because it is an area of poor artists, and the independence of it was established on the April Fool's day. But Hal tells another story about this Republic. He states that his father was the Užupis Republic ambassador in Korea, and because of his father's last wish to be buried in Užupis Republic, the Korean went for this adventure. The book tells about Hal's  struggles, new acquaintances. Some people say that the Republic of Užupis is only a legend, others claim that it actually existed. Later Hal meets Jorgita, the same lady whom he saw at the airport, and surprisingly she knows about the Užupis Republic. The Korean gets attracted with her and they spent the night together. But he does not forgot his mission and the  next morning comes to Adutiškis village, where he faces Jorgita, but this one is an old lady. This Jorgita seems to know a lot about the Užupis Republic, she even speaks in the Užupis language. Jorgita tells Hal about the tragic Užupis nation destiny, which Hal had heard from his father. After this emotional meet, the Korean comes back to Vilnius. There he packs all his bags and goes to the young Jorgita. But there is no one at her place – he came to an empty apartment and, for culmination, he plays  Russian roulette.
In conclusion, it is important to say that this novel is full of metaphors, hints, and other embellishments, which make the story more interesting and intriguing to the reader. This story is easy and interesting to read because culture shock, Lithuanian communication features and other interesting aspects are shown in this book.
List of articles
(Lietuvių) http://literaturairmenas.lt/index.php?option=com_content&view=category&id=155&Itemid=136
(Lietuvių) http://www.lrytas.lt/sroves/biblioteka/lrytas-lt-biblioteka-882-hailji-uzupio-respublika.htm