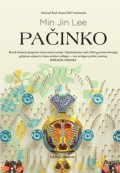 Original language:
Korean
Translated from:
English
Authors:
Lee, Min Jin
Translated by:
Gailiūtė-Bernotienė, Gabrielė
ISBN:
978-609-479-293-9
Published in:
Vilnius
Published on:
2020
Publisher:
Baltos lankos
"Pachinko" – is a three-part novel about several generations of one family. The author, a famous South Korean novelist, tells an intriguing story about lives of Korean people during a difficult period – from Japanese occupation (in the year of 1910) until the end of 20th century.
The story starts in a fisherman-village Yeongdo near the Busan city. One of the main characters Yang Jin gives birth to a daughter named Sun Ja. Indigent family is living unpretentiously from an income of a disabled fisherman as well as profits of a guest house that they own. Although the life for Sun Ja has never been easy she feels happy surrounded by a loving family. Sun Ja one day runs into a handsome fish buyer-up from Osaka Ko Hansu. Girl immediately gets Ko Hansu's attention. She also notices a man, who is obviously a foreigner. A western-style suit, his carriage and a luxurious perfume separates him from the all of the village men, which Sun Ja was used to see. Sun Ja could not even imagine a possibility that this type of man would ever pay attention to her. However, Ko Hansu is a man who will change lives of her and several generations in the future.
The title of the book reflects various turns of lives of the book characters. Pachinko is a very popular Japanese mechanical game. The characters of the book do not know how their lives will change at any moment – just like in the game. The fate is being compared to a luck.
The historical novel takes place during a very difficult time to Korean society. The characters of the book lives through Japanese occupation, the World War II, Korean war and the Division of Korea. The reader gets an opportunity to get familiar with the inside world, emotions and experiences of people in the middle of war, changes as well as hatred through the stories of the characters.
Min Jin Lee – American author born in South Korea. Her first historical novel  "Pachinko" received a massive attention everywhere in the World. The book immediatly became a Washington Post, Boston Globe, USA Today, Wall Street Journal bestseller. It also was included in the New York Times top 10 best books of 2017 and nominated for National Book Award.