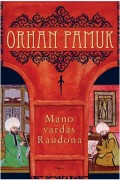 Original language:
Turkish
Translated from:
Turkish
Authors:
Pamuk, Orhan
Translated by:
Pilkauskaitė-Kariniauskienė, Justina
ISBN:
978-9986-16-918-5
Published in:
Vilnius
Published on:
2012
Publisher:
Tyto Alba
Later in the book, more unusual characters appear. Some of them being a dog, coin, demon or even the color red. All of the characters address the reader as if he belongs to their world, making him feel like he is a part of the story.
At first sight it might look like stories don't share anything in common, as if it's just different tales told one after another. However as you continue reading, the stories starts merging into one big picture, which shows you not just a mysterious crime fiction but also a love story. Because the color red isn't all about blood. It's about love, too.
Orhan Pamuk is not only a writer but also a professor in University of Columbia and is teaching Literature Comparison and Writing, so no wonder that in "My Name Is Red" there are a lot of references of various other books.  The author won the 2003 International IMPAC Dublin Literary Award and 2006 Nobel Prize in Literature. "My Name Is Read" was translated into 60 languages.