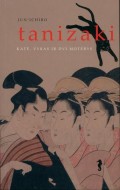 Original language:
Japanese
Translated from:
English
Authors:
Tanizaki, Junichiro
Translated by:
Mickienė, Virginija
Full translated source bibliographical description:
Tanizaki, Junichiro. Neko to Shouzou to futari no onna. Vilnius: Versus aureus, 2007. 128 p.
ISBN:
978-9955-34-008-9
Published in:
Vilnius
Published on:
2007
Publisher:
Versus Aureus
In the novella A Cat, a Man and Two Women Junichiro Tanizaki is discussing domination and humility in the personal relationships. The male protagonist, Shozo, is a spoiled and weak failure, who gets involved in a conflict between his ex-wife Shinako and his second wife Fukuko. Both women are utterly in love with Shozos cat, called Lilly, and are fighting over her. Lilly is a smart, seductive, elegant and authoritative cat, who became emotional confrontation link between Shozo and his women. This situation could be called a 'love square'.
Lilly is a deus ex machina. It is a type of denouement in ancient tragedies – rapid, unexpected god appearance and a fateful intervention in the situation; later – a quick, unjustified, psychologically unmotivated turn of the events, solution of the conflict. She points out that all the things Shozo was not satisfied with his ex-wife became a pretext for his second wife. This attitude triumphs in the society, which is ruled by men. Women are lower than men and have to be submissive and obedient. This novella reveals one of the most dominant social problems that still persists in the Japanese society.
Junichiro Tanizaki (1886-1965) is one of the main Japanese authors and probably one of the greatest Japanese novelists after Natsume Soseki. His works are characterised by eroticism and irony. Tanizaki was studying literature in the Tokyo Imperial University, where he was influenced by authors like Edgar Alan Poe and Oscar Wilde. Junichiro Tanizaki often illustrated women and destructive erotic fantasy worlds. However, traditional Japanese traditions were not forgotten as well.
Junichiro Tanizaki was nominated for Nobel Prize four times. In 1960, he was the first Japanese author who had an opportunity to win this prestigious award.