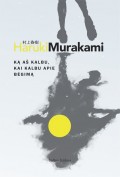 Original language:
Japanese
Translated from:
Japanese
Authors:
Murakami, Haruki
Translated by:
Polonskaitė, Jurgita
Full translated source bibliographical description:
Murakami, Haruki. Hashiru koto ni tsuite kataru toki ni boku no kataru koto. Tokyo: ???, ???
ISBN:
978-9955-23-584-2
Published in:
Vilnius
Published on:
2012
Publisher:
Baltos lankos
"What I Talk About When I Talk About Running" is a book by Haruki Murakami which could be called sportsman's diary, memoirs or autobiography of an athlete. This writer started his running career in early 1980's and participated in more than twenty marathons as well as in ultra-marathon. In this book he reveals his as runners' and triathletes' experience and he talks about workouts which are inherent from his writing career. As a consequence, the bohemian image of writers is being denied. It is because writing requires same amount of efforts as running. That is why writers are not swimming in the sea of alcohol and cigarette smoke. He also talks about daily workouts and preparations for races held in Tokyo, New York, Massachusetts, Hawaii.
Even though he mainly talks about competing in marathons, he also emphasizes the importance of triathlon in his life. Haruki Murakami tells about what he is thinking while he's running and that is – nothing. He runs in order to be in total silence, to drown himself into the void and just think about nothing. The writer says that when it is hot, he thinks about heat, when it is cold – about coldness, when he is sad – about sadness. Haruki Murakami tries to find out the reason why he is running and explain it more to himself than to readers.
This book does not tell any spectacular story, but it helps to alleviates understanding of writers' point of view, relationship with other people and to see the connection between running and writing.
Haruki Murakami is one of the most famous Japanese writers and translators. He is one of the most celebrated postmodern literature writers. There are a lot of different opinions about his works: there are people who love it and those who hate it. But his works speak for themselves, because they've been rewarded with many prestigious awards, including F. Kafka prize.