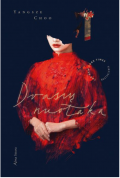 Original language:
English
Translated from:
English
Authors:
Choo, Yangsze
Translated by:
Kupčinskienė, Irena
ISBN:
978-609-01-4081-9
Published in:
Vilnius
Published on:
2020
Publisher:
Alma littera
"Ghost bride" is a fiction piece full of adventures, mystery as well as unexpected turns of events. The author of the book Yangsze Choo not only tells an intriguing story, but reveals details about Chinese folklore, traditions and local religions as well.
The action takes place in the end of 19th century, British Malaya (currently a territory of Malaysia). The main character Li Lan is a young girl from respectful but impoverished household. Li Lan has lost her mother when she was a child, thus she was raised by her nanny Achun as well as her kind father who sadly has lost his wealth due to opium addiction. The father tells the news to his daughter about an offer received from an influential Lim family in the beginning of the book. They have contacted Li Lan's father in order to ask a permission of marriage between Li Lan and a spirit of their recently deceased son's, as well as the main heir of family's treasures Lim Tian Ching. The marriage would guarantee Li Lan a stable income and a respectful position in a society. However, there is a risk of turning into a dangerous and mysterious path towards spiritual world. Li Lan slowly gets to know details of the life after death as well as involves in an investigation on circumstances of the death of Lim Tian Ching. This mysterious novel has four main sections, which make the story easy to follow.
The author of "Ghost bride" reveals many Chinese traditions, religious and social peculiarities of that time. Although the story takes place in the historical British Malaya the colonial possession was heavily influenced by the Chinese culture. Thus, the rituals mentioned in the book were practiced by both nations. The phenomenon written in the book of marriage with spirits was commonly practiced. These ceremonies were usually planned for young deceased family members who did not have a chance to create their own family to make sure that their spirits are in peace. The author tells more about the traditions, ceremonies, names and historical conditions of that time in the remarks of the book. The writer not only tells a fascinating story but also tries to introduce readers to the circumstances in order to make a reader relate more to the characters.
The book is a debut of the writer Yangsze Choo, which rapidly has become the New York Times bestseller. Because of the worldwide recognition of the novel in the year of 2020 a screening of the story was made. A popular TV series with the same title is available to watch in many countries on the online movies and TV shows broadcaster "Netflix".