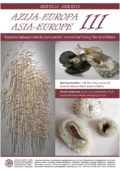 Date and time: 2018-01-12 17:00 - 2018-03-10 10:00

Location: Janinos Monkutės-Marks muziejus - galerija, J. Basanavičiaus g. 45, Kėdainiai

The Asia-Europe Fiber Art exhibitions where founded in 2009 by Erny Piret. The concept of the Asia-Europe exhibitions is to show the rich and creative imagination of European- and Asian textile artists through their specific cultures.
The exhibition presents a particular vision of textile and fiber art works, signifying that artists exclusively use the technique to express themselves. This mixture of experience, intuition and ingenuity, frequently leads to unexpected and surprising results. There is something incredible and even magical in the repetitive movements, impregnate in the knowledge and the time spent in experimentation, transforming into a work of art. The artist is carried by this moment of freedom which provides synergy to the mind and the body. It is clear that the artist trusts his experience, and does not occupy himself with the influence of vogue.
This exhibition is a presentation of a friendly meeting and a dialogue between two cultural identities, in the continuity of their traditions. If Asian works are authentic, and their culture is a continuation of their traditions, Europeans have nothing to envy, they have every reason to be proud of their ingenuity, diversity and originality. Convinced of these qualities I have accepted works, who are executed in traditional Asian techniques, only created by Asian artists.
Each of the selected European artists have made a personal research, experienced and perfected in a technique of their choice, attached to our European culture. They have realized an authentic and creative approach, with innovation of the various and often surprising techniques and materials.
A variety of creations come from 3 Asian countries: China, Japan and South Korea and from 14 European countries: France, Belgium, Poland, Hungary, Spain, Luxembourg, Czech Republic, Finland, Latvia, Lithuania, the Netherlands , Germany, Sweden and Italy. Whatever  the artwork is, hanging on the wall, suspended in the space, presented on the floor or on pedestal, the presence of each work in this exhibition is based on the wish for harmony. The first two editions of the Asia-Europe exhibitions where very successful, not only with  the visitors but also with the participated artists. This exhibition has been exhibited in the Deutsches Textilmuseum of Krefeld (Germany),  in the Central Museum in Łódź (Poland) and the last stop is in the Janina Monkute-Marks Museum in Kedainiai (Lithuania).
Exhibition participants:
HOLLAND:  Marian BIJLENGA
BELGIUM:   Nora CHALMET,  Jeannine De RAEYMAECKER
HUNGARY: Marika SZÁRAZ
CZECH REPUBLIC:  Blanka ŠPERKOVÀ
SPAIN:  Maria ORTEGA
ITALY: Kela CREMASCHI
LATVIA: Antra AUGUSTINOVICA
POLAND: Włodzimierz CYGAN, Magdalena SOBOŃ
LITHUANIA: Lina RINGELIENĖ, Ausra SEDLEVIČIŪTĖ
LIXEMBURG: Erny PIRET
FRANCE: Jean MICHEL LETTELIER; Françoise MICOUD
FINLAND: Raija JOKINEN
GERMANY: Rina KOLESNIKOVA, Bara LEHMANN-SCHULZ
SWEDEN / KOREA: Jin-SOOK SO
JAPAN:  Kazue HONMA, Kakuko ISHII, Yasuko IYANAGA,  Akiko KUMAZAWA,  Miki NAKAMURA, Yukako SORAI,  Kyoko UEDA, Makiko WAKISAKA, Rieko YASHIRO, Mitsue ITO , Ken KAGAJO, Hideaki KIZAKI
SOUTH KOREA: Young-SOON CHA, Yong-SOON CHUNG,  Sung-SOON LEE,  Yeon-SOON CHANG
CHINA:  Beili LIU
Web link: http://www.jmm-muziejus.lt/?tribe_events=tarptautine-keliaujanti-tekstiles-meno-paroda-azija-europa-iii&tribe_events_cat=exhibitions-and-events