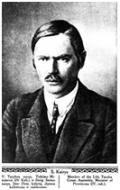 1879 - 1964
Steponas Kairys was one of the most iconic Lithuanian politics in the early XX century, one of the founders of the Social Democratic party, the February 16th Independence Act signatory. While he was living in St. Petersburg in early XX century, he was really interested in Japan, which has just won the Russian-Japanese war, admired the courage of representatives of the nation and well-ordered society. Over a century ago, in 1906 he came back to Lithuania, and under the nickname of "Dėdė' (translation Uncle) he wrote three books about Japan:  "Japonija seniau ir dabar", "Kaip japonai gyvena dabar", "Japonų konstitucija".
These books are the first known works that were written by a lithuanian about Japan and they also mark the start of Japanese studies in Lithuania. What's interesting about S.Kairys is that when he was only a 27 year old student from Anykščiai region, he was the first lithuanian who thoroughly introduced the exotic East country to the people of Lithuania which he has never even seen with his own eyes. In early XXI century Steponas Kairys for his merits and works became the new historical symbol of communication between Lithuania and Japan.
Studies
Bakalauras (Petersburg Technology Institute, 1898-1908, (Lietuvių) Baigė su pagyrimu)

Biography facts
July 19, 1996: Reburied in Kaunas, Petrašiūnai Cemetery
December 16, 1964: Died in Brooklyn, New York
1949: Elected vice-chairman of the Central And Eastern European Social Democratic union which is located in Paris
1948: Emigrated to United States
1944: Emigrated to Germany
1943-1945: Chairman of VLIK
1941-1943: Dean of VMU Faculty of Technologies
1923-1943: Lecturer at Vytautas Magnus University
1923 - 1938: Head of the Water Department of Kaunas Municipality
October 17, 1923: Married Ona Leonaitė
1920 - 1926 m.: Steigiamojo, I, II bei III Seimo narys
1919-1933: Editor of the Newspaper "Socialdemokratas"
1919 04 – 1919 10: Tiekimo ir maitinimo ministras IV Mykolo Sleževičiaus ministrų kabinete
1917-1919: Editor of Newspaper "Darbo balsas"
1917 m.: Lietuvos Tarybos narys, lietuvių konferencijos Berne dalyvis
1912-1919: Vilniuje dirbo miesto savivaldybės kanalizacijos skyriuje
1912: Married Belorussian writer Aloyza Pashkievich.
1908 m.: Samaros gubernijoje, Petro Vileišio vadovaujamas, statė tiltus Volgos–Bugulmos geležinkelyje, vėliau darbavosi Kursko gubernijoje.
1906: Editor of Newspaper "Echo"
1905: Lithuanian Congress in Vilnius Secretary, elected vice-president of the Great Vilnius Seimas
1900-1945: Member of Lithuania Social Democratic Party
1894-1898: Education at Šiauliai Gymnasium
1889–1894: Education at Palanga Gymnasium
1886–1887: Education at Kurkliai Russian School
January 2, 1879: Was born in Kurkliai, Russian Empire

Changes:
1940 m. už sanitarinių įrenginių statybą S.Kairiui suteiktas Vytauto Didžiojo universiteto garbės daktaro vardas.
List of mobographies:
Book list: None
List of articles