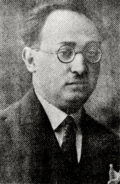 1894/1895 - 1943
Semitologist, historian of Jewish literature, Docent of Vytautas Magnus University (VMU), Professor of Vilnius University (VU), Hebrew language and literature researcher.  While living in Kaunas he has been doing researches on Jewish literature, Jewish–Lithuanian literary links and also since 1926 he was a head of Department of Semitology in University of Lithuania (now VMU). In this university N. Šapira taught several semitology courses (Arabic, Syriac, Aramaic languages, Comparative Grammar of the Semitic Languages, Quran, ect.), trained teachers for Jewish schools.
N. Šapira actively participated in the activities of "Lithuanian and Jewish Cultural Cooperation Society", was a member of " Hacionim haklaliim beLita" (Kaunas section) – an organization of Sionists in Lithuania. This organization tried to improve living conditions of Jewish living in the diaspora. N. Šapira took part in publishing various Jewish Sionist newspapers, "Lietuvos aidas", "Lietuvos žinios", VMU and VU's publications, edited the semitology chapter in the Lithuanian encyclopedia.
N. Šapira has written many academic works for Hebrew language and literature. The most relevant of them had to be " Naujoji hebrajų literatūra" ("The New Hebrew Literature") – history of Hebrew language consisted of 12 volumes. Only the first volume was published before the Second World War (the same time in Kaunas and Tel Aviv (Israel)). The work has not been finished because of the death of the author in the Ninth Fort in Kaunas.
Studies
Doktorantūra (Semitologija, Vienos universitetas )

Biography facts
1894 m. birželio 6 d. (kituose šaltiniuose 1895 m.): gimė Smolevičiuose, Minsko gubernijoje (Baltarusija).
1925–1926 m.: Lietuvos universiteto (dab. Vytauto Didžiojo universiteto) Humanitarinių mokslų fakulteto Semitologijos katedroje dirbo savanoriu (neturėjo etato).
1926–1940 m.: Lietuvos universiteto (dab. VDU) Semitologijos katedros vedėjas.
1927 m.: paskirtas lektoriumi, vėliau privatdocentu.
1932 m.: Lietuvos Respublikos Prezidento aktu suteiktas docento vardas.
1939 m.: Kaune ir Tel Avive (Izraelis) išleista "Naujoji hebrajų literatūra" (I tomas).
1940 m.: perkeltas dirbti į Vilniaus universitetą, kuriame N. Šapirai suteiktas profesoriaus vardas (tų pačių metų rudenį, sovietų valdžiai uždarius Semitologijos katedrą, jis šio darbo neteko).
1941 m.: N. Šapira uždarytas į Kauno getą.
1943 m.: . gruodžio 18 d.: su šeima nužudytas Kauno IX forte.
1967 m.: Izraelyje išleistas antrasis "Naujosios hebrajų literatūros" (I tomas) leidimas.

List of mobographies: None
Book list: None