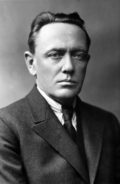 1873 - 1944
Poet, essayist, translator, diplomat. J. Baltrušaitis was one of the most famous symbolists of Russian and Lithuanian poetry, who was fluent not only in Russian and Lithuanian, but also in English, German, Swedish, Norwegian, Danish, Italian and French. He has translated a great number of works of foreign writers (H. Ibsen, O. Wilde, A. Strindberg, G. Byron and others) into Russian; has translated the poetry of Nobel Prize winner Indian poet Rabindranath Tagore and prepared his poem "Gitanjali" for the press. J. Baltrušaitis helped with publishing symbolist review "Vesy", "Severnye cvety"; as well as various magazines, newspapers, almanacs, anthologies and occasional collections.
Characteristics of J. Baltrušaitis' poetry: the one he has written in Russian is full of philosophical reflections of the truth of eternal being and the meaning of life, elegiac peace; while in his Lithuanian poetry J. Baltrušaitis focuses more on the theme of Lithuanian survival, philosophical reflection and allegory are linked with  images of rural household and nature. There are quite a few biblical images and details in his poetry. What is more, the connection between J. Baltrušaitis' worldview and the worldview of the Eastern philosophy, which emphasizes commonality and suppresses the tension of individuality, can be noticed as well. For J. Baltrušaitis himself the aphoristic completeness of thought, which is one of the main features of Eastern poetry, was the perfection of art, and therefore he tried to put some of his poems into four verses as well, and by doing so tried to achieve this perfection. J. Baltrušaitis is remembered as a person who was looking for spiritual refreshment in the Eastern cultures, philosophy. His works have influenced other Lithuanian poets, a part of his works is translated into English, Italian, Polish and other languages.
During the World War I and the October Revolution in Russia in 1917 J. Baltrušaitis participated in the activities of Committee on Victims of War. Throughout the period between the WWI and WWII J. Baltrušaitis was working as a Lithuanian diplomat in Moscow. During that time he has saved many famous Russian art and cultural figures from the Soviet terror (J. Baltrušaitis issued them travel documents of the Republic of Lithuania – visas, so that they could have move to the West safely).
J. Baltrušaitis was convinced that Lithuania should not only maintain friendly relations with the neighboring countries, but also cooperate with the ones that are further, especially in the East. While being a representative of Lithuania for Turkey and Persia J. Baltrušaitis was not only traveling around those countries, but also, thanks to him, a closer relations between Lithuania and those two countries were established.
Studies
Bakalauras (Maskvos universitetas, Fizikos ir Matematikos fakultetas, 1893-1898)

Biography facts
1873 m. gegužės 2 d. : gimė Paantvardyje (Jurbarko vlsč.).
1885–1893 m.: mokėsi Kauno gimnazijoje.
1893–1898 m.: studijavo Maskvos universito Fizikos ir Matematikos fakultete; taip pat lankė Istorijos ir Filologijos fakultetų paskaitas, mokėsi kalbų.
Nuo 1895 m.: pradėjo bendradarbiauti rusų literatūros žurnaluose.
1899 m.: su S. Poliakovu įkūrė leidyklą "Skorpion". Išspausdinti pirmieji J. Baltrušaičio eilėraščiai rusų kalba.
1900–1914 m.: keliavo po Vakarų Europą.
1900–1920 m: dalyvavo rusų literatūriniame gyvenime bei Maskvos Lietuvių draugijos ir Nukentėjusiems nuo karo šelpti komiteto veikloje.
1911 m: išleista pirmoji poezijos knyga "Žemės laiptai" (rusų k.).
1915–1917 m: su B. Sruoga ir M. Gorkiu rengė lietuvių literatūros bei lietuvių liaudies dainų rinkinius rusų kalba (išleisti nebuvo).
Po 1917 m. : trumpai vadovavo Maskvos rašytojų organizacijai.
1919 m.: tapo Visos Rusijos Rašytojų sąjungos pirmininku.
1920–1922 m.: Lietuvos specialiosios misijos vadovas Maskvoje.
1922–1939 m.: Lietuvos nepaprastasis pasiuntinys ir įgaliotasis ministras Sovietų Sąjungoje.
1927 m.: išleisti pirmieji eilėraščiai lietuvių kalba.
1932 m.: paskelbtas Kauno universiteto (dab. VDU) literatūros garbės daktaru.
1932–1939 m.: Lietuvos atstovas Turkijai (rezidavo Maskvoje).
1933–1939 m.: Lietuvos atstovas Persijai (rezidavo Maskvoje).
Nuo 1939 m.: Lietuvos pasiuntinybės Paryžiuje patarėjas.
1944 m. sausio 3 d.: mirė Paryžiuje, palaidotas Mon Ružo (Montrouge) kapinėse.

List of mobographies: None
Book list: None