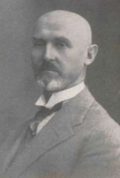 1874 - 1941
Konstantinas Aris was a Lithuanian traveler, entomologist and businessman. He had organized expeditions to Central Asia, Pamir, Afghanistan, Persia and other places. During these expeditions (1897 – 1909) K. Aris was exploring the nature, collecting various animals (mostly reptiles and insects) for his collections, taking photos and writing his traveling, research journals.
K. Aris wrote about two of his expeditions in the book titled "My expedition to Central Asia" (Vol. 1-2, 1933–1934). In this book people can find a lot of detailed information about the mountain areas, especially, about the Pamir region. Furthermore, K. Aris described traditions and businesses of people from Bukhara and Samarkand in the end of the 19th and the beginning of the 20th century. There are numerous historical and ethnographic facts as well as descriptions of historical and architectural monuments.
During his lifetime K. Aris systematized ~18 000 kinds of insects. He donated the collection of ~30 000 zoological exhibits from his expeditions to Vytautas Magnus University (VMU). The rest of the exhibits (~11 000) were kept in the Tadas Ivanauskas Zoological Museum in Kaunas.
2 kinds of bugs and 1 kind of butterflies were named after Konstantinas Aris.
Biography facts
1874 m. birželio 13 d. : Gimė Palangoje
1876 m.: : Su tėvais persikėlė gyventi į Liepoją, kurioje baigęs penkias gimnazijos klases, išvyko į Maskvą ir dirbo vaistinėje mokiniu. Vėliau metus praktikavosi vaistinėje Saratove
1897 m.: : Komandiruojamas į Bucharą (Vidurinė Azija), kur su pertraukomis gyveno 20 metų.
1897-1909 m.: : Mokslinės ekspedicijos į Bucharą, Samarkandą bei jų apylinkes, Kogistano, Talas Alatau, Pamyro kalnynus, Zeravšano, Kopetdago ir kitus kalnagūbrius, Karakumų, Kyzylkumo, Takla Makano dykumas, Alajo lygumą, Užkaspijo sritį ir kt.
1909 m.:: Turkestano žemės ūkio parodoje už pasiektus rezultatus medvilnės versle (K. Ario įkurtos medvilnės plantacijos ir fabrikai medvilnei apdirbti bei alyvai gaminti prie Tedženo, dab. Turkmėnija, ežero) K. Aris apdovanotas aukso ir sidabro medaliais, pagyrimo raštu.
1922 m.:: Grįžo į Lietuvą, gyveno Kaune.
1931 m.:: Dalyvavo prof. Tado Ivanausko organizuotoje ekspedicijoje į Braziliją
1933-1934 m.:: Išleido knygą "Mano ekspedicija į Vidurinę Aziją" (2 tomai)
1941 m.:: Mirė. Palaidojimo vieta nežinoma.

List of mobographies: None
Book list: None