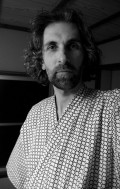 1965
Penname Neboisia – poet, artist, photographer, traveler, writer, sculptor, video artist, musician, kite artist and diplomat of the Republic of Užupis, currently Užupis ambassador in Persia (Iran) and Santo Spirito.  Spent 13 years Užupio ambassador in Tibet.
1991 graduated from Vilnius Pedagogical Institute. In 2007-2008 he led Užupis Art Incubator. Lithuanian Art Photographers' Association member. Visited Japan, Tibet, Iran, India, Nepal, Thailand, the Kuril Islands, Turkmenistan, Uzbekistan, Kazakhstan, Tajikistan, Turkey, Morocco, Cuba and Georgia. He wrote the books: Wanderers notes. Georgia and Iran- the other side of the Moon.
Studies
Bakalauras (Vilnius Pedagogical Institute, 1991)

Biography facts
September 13, 1965: Born
Since 1998: Lithuanian Art Photographers\' Association member
Since 2003: Cooperate with the National Youth Theater, as a photographer

Changes: A photography award LATGA nomination as the author whose works are mainly used in Lithuania and abroad. LATGA A year-author award for visual arts as a painter and art photographer.
List of mobographies:
Book list: None
List of articles